Getting your kid's ears pierced is a major milestone for them and for you. At Pigtails & Crewcuts, we do our best to make the experience quick and easy, but we completely understand that you may have some questions! Hopefully, we can clear some of those up for you before you come in. Here are some of our frequently asked questions about our ear piercing service:
1. Do you use a piercing gun?
We use a piercing tool that is loaded with a sterile piercing earring.
2. Can you pierce cartilage?
We can not pierce cartilage. Because we use a piercing tool and not a needle, we cannot pierce anything other than an earlobe.
3. Can I bring in my own earrings to pierce with?
No. The earrings we use to pierce are sterile and allergen-free, and we can't put in earrings that you bring because it would disrupt the healing process.
4. Are your earrings nickel-free?
Yes! Our earrings are nickel-free and made for sensitive ears.
5. Which metal should I choose?
We offer both stainless steel and 14k gold-plated earrings. Both are made for sensitive ears, so it's really up to you! We only advise that you choose one over the other if you have a family history of sensitivity to certain metals.
6. Do you pierce both ears at the same time?
Yes! The ear piercing specialist taking care of you will ask another trained employee to assist them. We'll make sure everyone is ready, count to three, and then pierce both ears at the same time!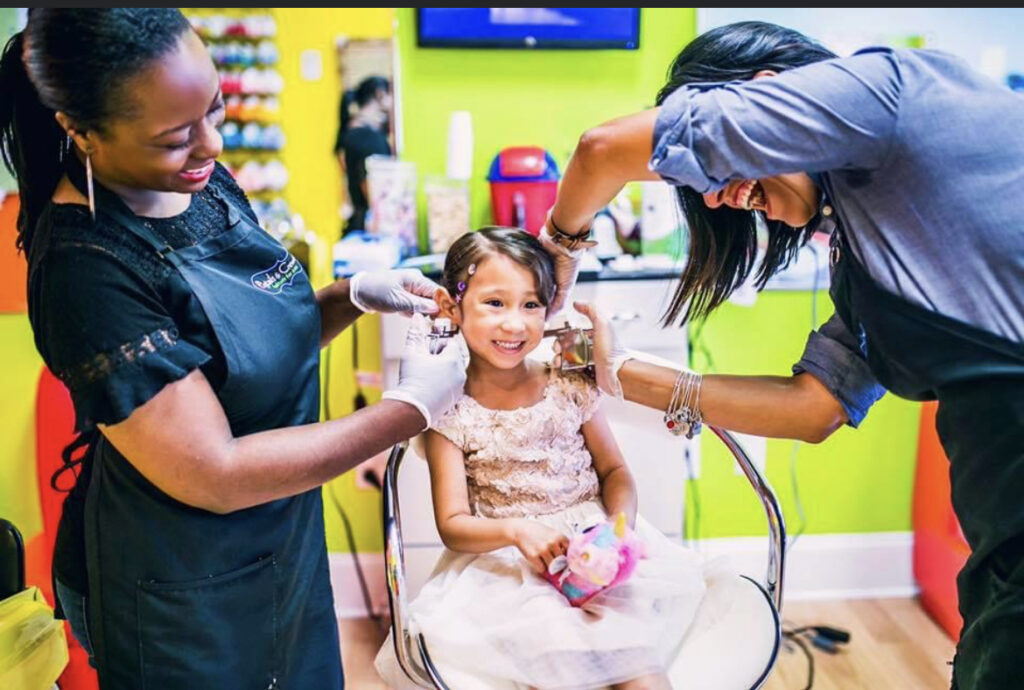 7. Do I need an appointment?
No, you don't need an appointment! We happily serve walk-ins as long as we have an ear piercing specialist available.
8. Can you pierce a baby's ears?
Yes, we can pierce a baby's ears. With babies, it isn't easy to pierce both ears at the same time, so we pierce one ear, give your little one some time to calm down, then pierce the other ear.
9. Do we get to choose our earrings?
Yes! We have over 35 different designs to choose from.