As a parent, you cherish every first moment with your child – from their first smile to their first steps. But don't forget about their first haircut! At Pigtails & Crewcuts, we understand how special this milestone is for both you and your little one.
Our stylists specialize in working with kids and will make sure that your child's first haircut is an enjoyable and memorable experience. We have a range of services to choose from and will customize the experience to suit your child's personality and style.
To commemorate this special moment, we offer a First Haircut Package that includes a personalized souvenir card with your child's name, the date of their haircut, a lock of their hair, and a photo to take home. This way, your family can look back on this day and relive the memories for years to come.
We know that a first haircut can be intimidating for children, but our stylists are patient, kind, and always happy to explain each step of the process. Come celebrate this special moment with us at Pigtails & Crewcuts – where the first haircut is where our friendship with you and your child begins!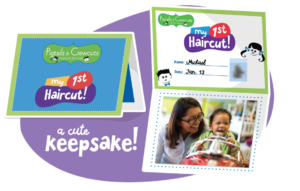 Your child's first haircut may bring many questions to your mind.
No worries! We will take our cues from your comfort level,  taking breaks as needed to allow you to comfort your child. Though your child may tear up from the new experience of a first haircut, our experienced team will help to make your child feel calm.
At Pigtails & Crewcuts, we welcome wiggles! Our team is the best and all kids wiggle. We promise to give your child an excellent haircut, even if they're a moving target. After all, haircuts for kids is our expertise! 
At Pigtails & Crewcuts our expert stylists know to move fast while working with our wiggly little ones. Our appts are booked in 15 to 20 minute slots, which includes time to take their photo for the keepsake frame!
Will they put my child at ease?
Absolutely! Our team of stylists are all experienced working with kids and create a comfortable and happy environment. Your child is likely to pick up on that positive energy, and if they cry, it's totally okay! We will still give a great haircut, taking cues from your comfort level and breaking as needed.