Hey Mama, there's no more drama when you take your child to Pigtails & Crewcuts in Smyrna/ Vinings for their first haircut. With our First Haircut Package, we've perfected the art of the child's first haircut. We guarantee a wonderful experience and are sure you'll become a regular customer.
A Mother's Worry
Mom's worry about that first haircut. When's the right time? How will my child react? Will the salon really care for my baby? Will there be a meltdown?
Don't be intimidated or dread the day. While it can be scary for you and for your kid, fear not. You have found the right place. When you walk in the door, you'll feel the special energy of caring and fun. Our salon is not a mini version of an adult salon. It was built with children front and center.
When you make an appointment, you'll have a spot waiting for you. Your kid can choose a custom-themed chair, like a fire truck or a police car, made specifically for children. They can play with the steering wheels and magnetic toys or watch TV and movies to keep them engaged. We can use a booster seat if needed.
We love children and everyone on our staff knows how to make them comfortable and interact with them appropriately.
Capture the Moment
The first haircut should be a calm memorable experience, not one marked with tears. We created the First Haircut Package with this in mind.
When you arrive, we'll talk with you about your child, their hair, and any issues they might have. Our professional staff works with kids as young as two months. We are all sensitive to your child's needs, and we want their experience to be enjoyable.
Your child will have a great time, get a great haircut, and go home with a toy they choose from our treasure chest. You'll have a happy kid and receive a personalized keepsake card with:
your baby's name
haircut date
cute photo
locket of hair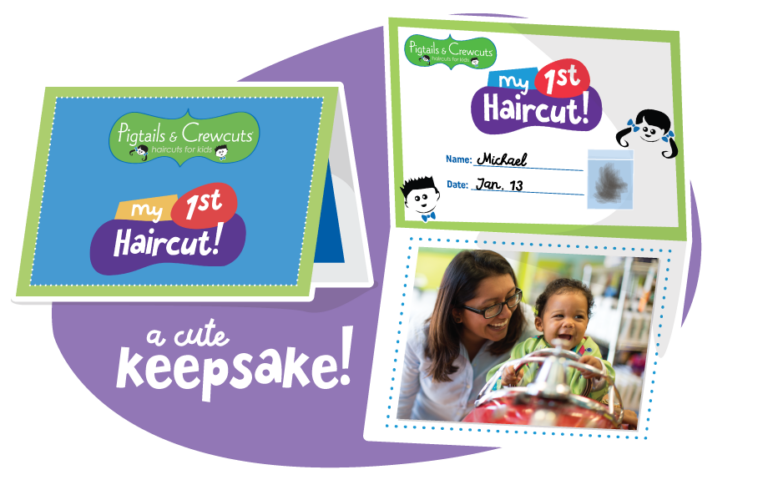 Join Our Family
We invite your family to join our family in building a relationship based on trust, integrity, and our mutual love of children. A great haircut experience comes from caring and making connections with your child. We offer a professional, safe, and unique experience for both mom and child and hope to exceed your expectations.