Easy Braids: French Rope Braid
This elegant two-strand braid looks a lot more complicated than it actually is, and results in some fabulous heatless curls once you take them out! Here's how you can achieve the look at home:
What you'll need:
A hairbrush
Hair elastics
Hairspray (optional)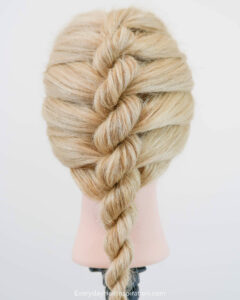 Start by brushing out your child's hair. You want their hair to be tangle-free!

Part your kid's hair into two sections. Tie one section off so it is out of the way.

Starting at the top of your first side, take a small section, and twist it in towards your child's face.

Take another small section and twist it in the same direction as the first section.

Wrap both the second section around the first, away from your little one's face. Twisting the sections together the opposite way they are twisted individually is what locks the braid in place.

Add more hair into your first section, twist the whole section towards your kid's face, then wrap it around your other section away from your little one's face.

Repeat steps 5 and 6 until you reach your desired length.

Secure your first braid with an elastic, then repeat on the other side.

Congrats! You've finished your set of French Rope Braids!
To simplify the style, start with a ponytail. Split the ponytail into two sections, then twist each of those sections to the left. Wrap both sections around each other to the left. This makes a cute ponytail braid!

For overnight heatless curls, lightly spray your little one's hair with some water to make it wet before braiding! (A continuous misting bottle makes this super easy- you can pick one up at Pigtails & Crewcuts West Cobb!) When they wake up, they'll have the most precious waves with no heat damage!

To prevent flyaways and keep the style sleek, try a braiding balm or hair gel!
Now you know the ins and outs about how to do a french rope braid!