At Pigtails & Crewcuts, we offer more than just fantastic haircuts— we also provide quick and easy ear-piercing services for children of all ages! Getting their ears pierced for the first time is a huge milestone for little ones, and even though it's an exciting experience, it can also be a little scary. That's why we have a kid-friendly environment and patient staff to put you and your child at ease.
Upon arrival, we'll have you and your child look through our different earring options to pick the earrings that suit your needs best! We offer over 35 different stud designs with stainless-steel or gold-plated finishes. Once you've selected your earrings, your kid will take a seat while one of our piercing specialists explains the process of what's going to happen and how to take care of their new piercings while they heal. In the meantime, we'll have a couple of consent forms for you to fill out. Don't worry; you're not missing anything! We'll send you home with a sheet with all the aftercare instructions.
After explaining to your little one how our process works and how to care for their piercings, we'll put on a fresh pair of gloves and disinfect their ears. Then, we'll carefully mark the center of each ear lobe, explaining to your child exactly what we're doing while we're doing it and providing any reassurance they may need. Once we've planned where we're going to pierce, we'll ask you for parental approval. If you're not happy with the placement, no worries! We're more than happy to remark your kiddo's ear until you approve.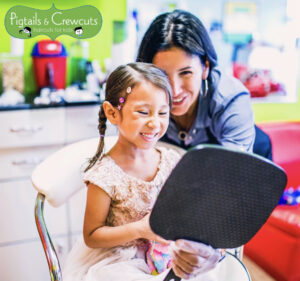 Finally, it's time to pierce! Your piercing specialist will call over another trained staff member to assist with the job. First, we'll measure. Then, when everybody is ready, we'll count to 3 and pierce both ears at the same time!
At the front desk, we'll give you a goodie bag with aftercare instructions, cleaning solution, and a special ear piercing certificate! Your little one is also welcome to a lollipop and a treasure from our treasure chest.
We are so glad you chose us for your special day! We hope to make it a super positive memory!
Want to see what other Moms and Dads have to say about us? Check out our reviews!