With the end of the school year and the beginning of summer quickly approaching, it's important to understand how to take care of your child's hair before and after your trip to the pool. Here are four tips for swim season hair care!
1. Rinse hair before going swimming.
If your child's hair is already full of water from a rinse, it will absorb less chlorinated water. This reduces the risk of damage! Hair is like a sponge – if it's already full of water, it can't absorb much more.
2. Use a swim cap or protective hair styles.
Tying long hair into a ponytail, braid, or tight bun minimizes contact with chlorine. It also looks super cute!
3. Use a clarifying shampoo after going swimming.
Regardless of hair type, washing chlorine out of your hair is crucial to reduce the risk of damage. A gentle, sulfate-free, clarifying shampoo is perfect for the job. We recommend Lifeguard™ by Fairy Tales. You can pick up a bottle at Pigtails & Crewcuts East Cobb today! Just make sure to note that clarifying shampoos can be hard on the hair and should not be used everyday.
The Fairy Tales Hair Care Line also has a summertime spray and conditioner that pair well with the Lifeguard Shampoo!. This line is specially made for kids and is parabean free, sulphate free, gluten free, soy free, phthalate fee. No harsh toxins!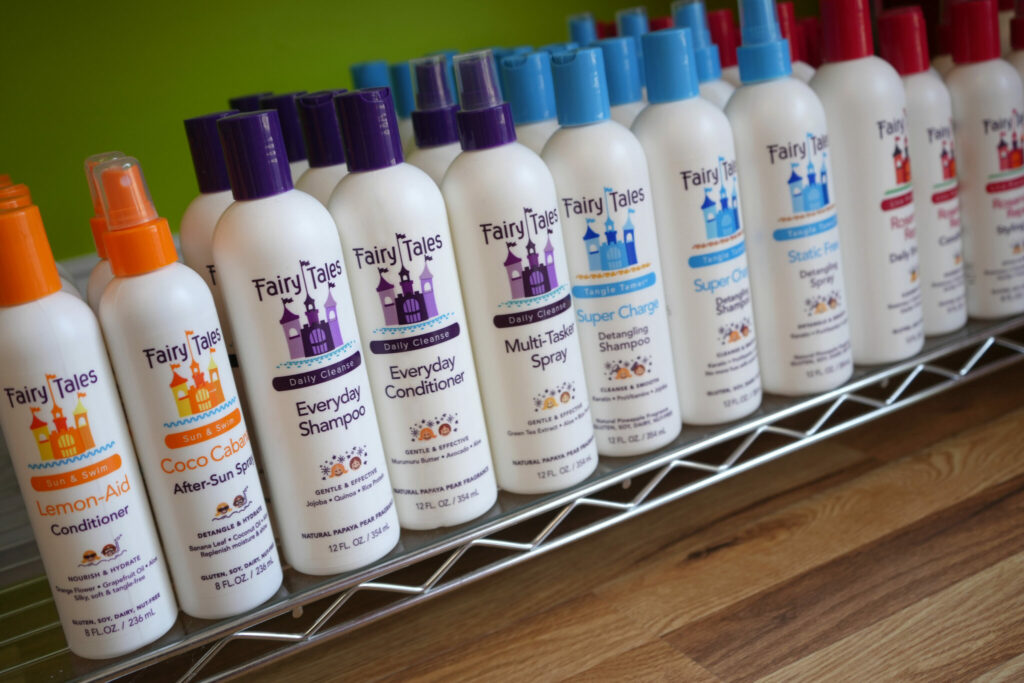 4. Don't wait to wash your child's hair when you get home.
If you let chlorinated water sit in your little one's hair for an extended time, it will dry out and crack their hair strands. Wash their hair thoroughly soon after returning home. Be sure to follow up with a good conditioner! We recommend Lemon-Aid™ by Fairy Tales. It's formulated to nourish and hydrate post-swim hair.
Following these swim season hair care tips will help keep your hair happy and healthy all summer long!
Want to know what other Moms and Dads have to say about us? Check out our reviews!