All of your child's firsts are special. A first tooth, a first smile, first word, first steps, all core memories of our journey into parenthood! A first haircut is a special milestone too! Pigtails & Crewcuts is the perfect place to celebrate it.
A first haircut is where our friendship begins!
Our experienced stylists know how to work with children, and we have a variety of services to make the experience fun and memorable.
We offer a First Haircut Package that includes a souvenir card with your child's name, the date of the haircut, a lock of hair, and a photo to take home, so your family can look back on this day and smile.
We know that a child's first haircut can be a little scary, so we strive to make the experience as positive as possible. Our understanding and patient stylists take the time to explain what we're doing every step of the way.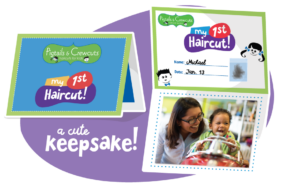 Your child's first haircut may bring many questions to your mind.
It's totally okay! We'll take cues from your comfort level and have breaks as needed for you to comfort your child. We rely on our years of experience to comfort your little one.
Wiggles and giggles are welcomed at Pigtails & Crewcuts!  We know all kids wiggle, which is why our team is vetted for their skills in cutting hair and TLC. Our team can give even the wiggliest little ones the best haircut! 
At Pigtails & Crewcuts our experienced stylists know to move fast while working with our wiggly little ones. Our appts are booked in 15 to 20 minute slots and this includes time to take their photo which we include in the keepsake frame!
Will they put my child at ease?
Yes, our team of stylists are all experienced working with kids. They are comfortable and happy doing their jobs and therefore your child is likely to pick up that energy and if they cry, worry not! We will still give a great haircut, while taking cues from your level of comfort and breaking when you need us to.