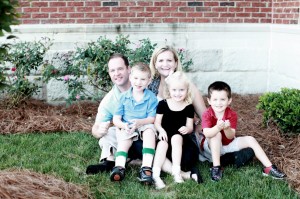 Atlanta, Georgia (September 19, 2012) — Pigtails & Crewcuts in Charlotte, North Carolina (in Blakeney) has been honored with the "Asperkids Seal of Awesomeness" by Jennifer Cook O'Toole. This award recognizes businesses, products and resources that are attentive to the special needs of children with Asperger Syndrome. O'Toole, who is a customer of Pigtails & Crewcuts in Charlotte (Blakeney) and the creator of the award, is also the author of the book Asperkids: An Insider's Guide to Loving, Understanding and Teaching Children with Asperger Syndrome.
"We are so honored to receive the 'Asperkids Seal of Awesomeness,'" said Hailey Arthur, who, along with her husband, Mike, owns the Pigtails & Crewcuts salon in Charlotte (Blakeney). "We opened Pigtails & Crewcuts because we couldn't find a salon in town that knew how to treat our son's special needs. We sought to fill that void, and this recognition really validates the hard work we've put into doing just that."
Arthur says she works with her staff to accommodate the needs of all children. She says the following tips are helpful when children with special needs come into the salon:
1. Speak quietly and calmly to the child and let him/her see the tools and touch the clippers/trimmers before you use them.
2. Have someone on hand to blow bubbles or play a game to help distract the child.
3. When you ask a question of the child, wait for him/her to answer. Sometimes the child may need a little longer to respond.
4. Be patient with the child. Let him/her play in the salon for a little while before starting the haircut.
5. End on a positive note. Talk about what a great job he/she did and and say that you hope they come back to see you again. In our salon, the kids get a lollipop, animal crackers and a treasure from the treasure box at the end of the haircut.
Arthur says that Pigtails & Crewcuts is a place where kids can be themselves, whether they're laughing or crying. She says she got into this business because she wanted to make a difference. "For people with special needs, everything is difficult. Opening a lunch is difficult. Going to the bathroom is difficult. Getting a haircut is difficult," said Arthur. "I want parents to understand that Pigtails & Crewcuts recognizes that, and we do everything we can to make just this one thing easier for them. Being able to provide that sense of security and comfort for people makes me feel so good."
O'Toole, who has a background in education and advocacy, created the "Asperkids Seal of Awesomeness" to serve as a guide to help families impacted by Asperger's. O'Toole was diagnosed Asperger Syndrome as an adult, and her husband and three children also have Asperger Syndrome. An internationally respected advocate for people with special needs, she received the 2012 Temple Grandin award for her contributions to Asperger Syndrome awareness.
About Pigtails & Crewcuts
Founded in 2004 in Atlanta, Georgia, Pigtails & Crewcuts is a children's hair salon franchise dedicated to making haircuts fun and stress-free for young patrons and their parents. With 32 locations across the nation, Pigtails & Crewcuts specializes in quality haircuts for boys and girls of all ages, and also hosts children's parties. In 2010, Parents.com named Pigtails & Crewcuts one of the Top 10 Chains for Kid Birthday Parties. In addition, Entrepreneur Magazine has named Pigtails & Crewcuts a top franchise on the "Franchise 500" list for five consecutive years. To learn more, go to pigtailsandcrewcutsfranchise.com.