Find a Fun Career at Pigtails & Crewcuts!
Create Styles & Smiles at Pigtails & Crewcuts
Looking for a career that allows you to be creative and have fun with the benefit of a flexible, family-friendly schedule? 
We understand and that's why Pigtails & Crewcuts could be the right fit you're looking for! Our children's salons were created for kids by parents to provide families with a better haircut experience. We pride ourselves on creating an environment that's centered on fun for our customers and our team. Our salons operate on family-friendly hours so you can be there for the moments that matter most, from the nightly homework and bedtime routines to recitals, sporting events, and more. 
Is this the change you're looking for? We're always looking to add new talent to our children's salons around the country. Must-haves include:
A love for working with children and families

The ability to create an enjoyable haircut experience

Work with kids through wiggles, giggles, tears, or fears

Strong listening skills and a willingness to help parents and kids find a style everyone will
Ready to apply? Here's what it takes:
Meet with the management team of your local salon and show us what you know
Build a rewarding career with the support of your Pigtails & Crewcuts family
Come join the fun and find a fulfilling career at Pigtails & Crewcuts!
It has a great group of people to work with. I learned so much from this job. I grew not only as an employee, but a person. My favorite thing about this job is that it is never monotonous and boring, each day is a new adventure.
Working with this company has been such a blessing. I have met and work alongside amazing teammates. I believe in the values and what this company means to me and the owner's. I have had the pleasure of working with amazing families in this community. I feel every child deserves to have a great amazing haircut cut experience. Fairy hair, ear piercing and Unicorn Kisses Whether it's their first haircut or 100th haircut. I get to be the "Aunt Nana" to all these children, while they're sitting in my chair. We have bubble parties, we get go fast in our little car during the haircut. This has always been a favorite philosophy of mine "If you're doing what you love you'll never work a day in your life" So I really don't feel as if I'm at a job. However getting to spread love and positivity to all of my families here. I truly love working with The Pigtails and Crewcuts family!!
Absolutely a fantastic place to work!!! Love our ENTIRE team.
Pigtails and Crewcuts has been the best and most rewarding job I have ever had! I love being part of these kids and families lives and find joy in the small and big accomplishments we make together! I love going home feeling like I made a difference in the life of a child and made a mundane task something they love and look forward to!
Each location is independently owned and operated by a franchisee. Your application will go directly to the franchisee, and all hiring decisions will be made by the management of that location. All inquiries about employment at this salon should be made directly to the franchisee, and not to Pigtails & Crewcuts Franchise.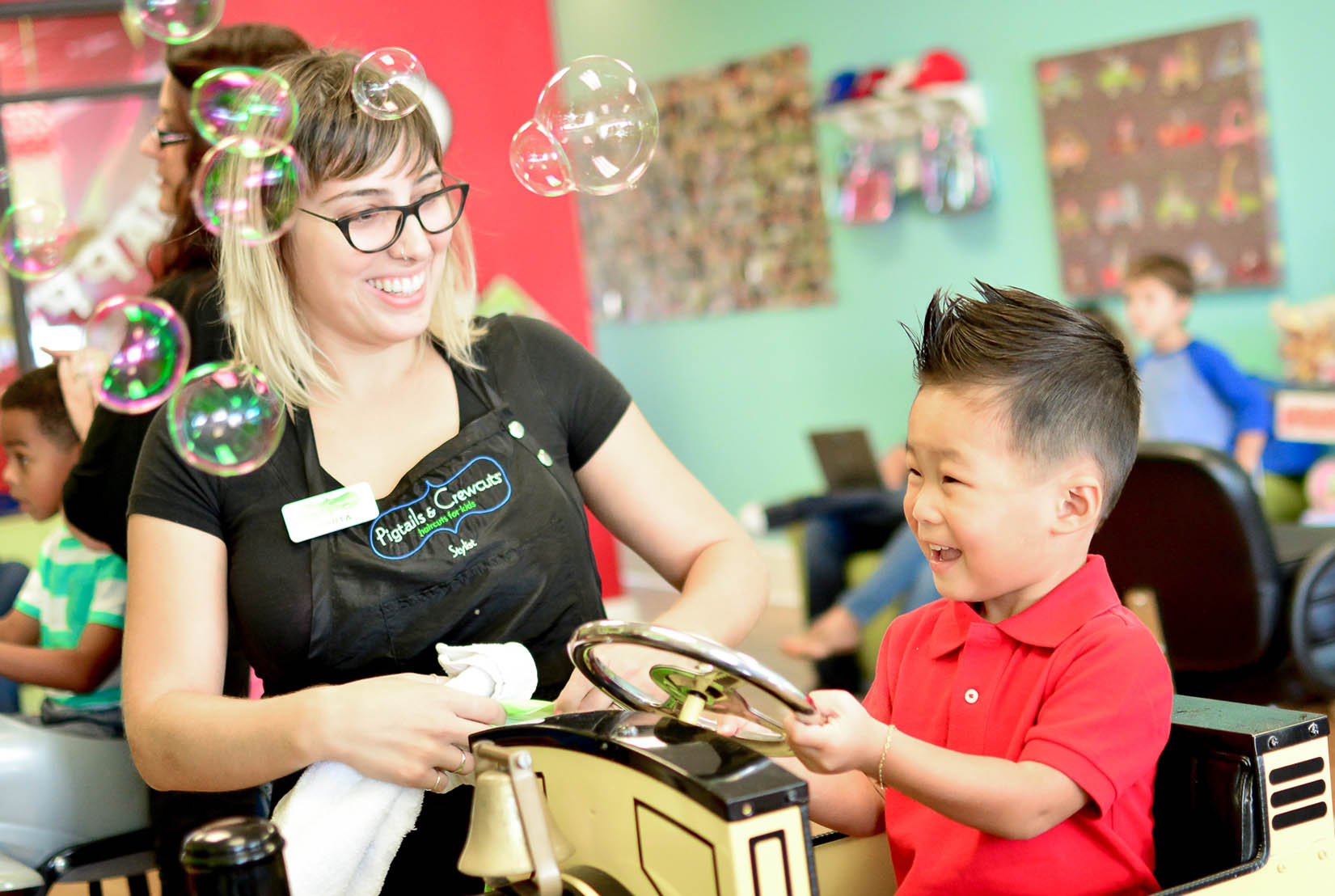 Pigtails & Crewcuts is a high-quality children's salon dedicated to providing a fun and comfortable experience for everyone. Our stylists are trained to work with children and specialize in haircuts for boys & girls of all ages. Each salon is designed with our most important customer in mind. We have themed & adult styling chairs, "parent chairs" at each styling station, age-appropriate movies playing throughout the day, video game consoles, a train table, toys, and retail offerings including hair accessories & hair care products.
Each location is independently owned and operated by a franchisee. Your information will go directly to the franchisee and all hiring decisions will be made by the management of that location. Inquiries about employment at any Pigtails & Crewcuts location should be made directly to the franchisee, and not the Pigtails & Crewcuts franchise office.