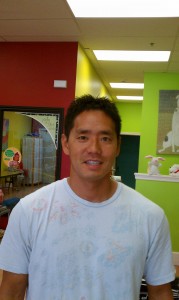 Just three days after his 39th birthday, Brian Yonehara, who owns a Pigtails & Crewcuts franchise in Honolulu, was honored in the Pacific Business News' 14th annual "Forty Under 40" event, which designates business and community leaders who are 39 years of age and younger.
"This is a wonderful honor," said Yonehara, whose child-centric salon is located in the Moanalua Shopping Center near Pearl Harbor. "One of the best parts of owning Pigtails & Crewcuts is it allows us to serve our community and give back. It feels good to be recognized for what we do."
Since 1999, the "Forty Under 40" event has honored Hawaii businessmen and women for their innovative skills in business as well as giving back to the community. Yonehara received the award during a reception at the Hawaii Convention Center on June 21. The newspaper ran a story featuring Yonehara June 22.
Wade Brannon, owner of the Pigtails & Crewcuts franchise, said that this distinction speaks highly of Yonehara, as well as the business. "Brian Yonehara and his wife, Grace, bring both a strong business mindset and community mindset to Pigtails & Crewcuts in Honolulu. They serve as wonderful ambassadors of our brand, and we couldn't be more proud of this well-deserved honor."
Yonehara and Grace opened Pigtails & Crewcuts, which is a part the Atlanta, Georgia-based national franchise, in 2006. With two young daughters, the parents had searched Honolulu for a high-quality, low-stress salon to cut their kids' hair, but had no luck. Following a number of negative experiences with poor haircuts and poor customer service, they resorted to cutting their kids' hair, themselves. Then they learned about the Pigtails & Crewcuts franchise of salons, which truly cater to children. Drawn to the airplane and fire engine chairs and whimsical, fun atmosphere, they decided to bring the franchise to Hawaii. Since opening, they've seen 16 to 17 percent growth each year, even during the recession. The salon now has 20 employees.
But for Yonehara, the real heart of the business lies in its impact outside of the salon. Each month, his staff volunteers at Shriners Hospital – Honolulu, where they pamper sick children. In addition, Yonehara participates in many fundraisers for schools, donates school supplies and more.
"We're in the heart of a small community in Hawaii. I think it's very important to give back," said Yonehara. "The community supports us, so we do whatever we can to support the community."
About Pigtails & Crewcuts
Founded in 2004 in Atlanta, Georgia, Pigtails & Crewcuts is a children's hair salon franchise dedicated to making haircuts fun and stress-free for young patrons and their parents. With 32 locations across the nation, Pigtails & Crewcuts specializes in quality haircuts for boys and girls of all ages, and also hosts children's parties. In 2010, Parents.com named Pigtails & Crewcuts one of the Top 10 Chains for Kid Birthday Parties. In addition, Pigtails & Crewcuts has been named to the "Franchise 500" list as a top franchise by Entrepreneur Magazine for five consecutive years. To learn more, go to pigtailsandcrewcutsfranchise.com.
MEDIA CONTACTS:
Sheri Bedard Bannister, (404) 822-4862, sheri@spincreativeinc.com
Photos available upon request.