We know getting a haircut can be a big part of getting back to feeling normal. We want to be here for you the same way we were before, but we're going to be making a few changes. Check out our safety video below:
While our health care professionals, first responders, and essential workers are still at work keeping the country moving, we feel it's important to do our part in supporting them by adhering to all recommendations and guidelines outlined by the government and healthcare authorities.
We care about your experience and our goal is to delight you. Our top priority is always the health and safety of our customers and staff. As we adjust to the new COVID normal, we've put some extra precautions in place to help keep everyone healthy. Please check your local salon for additional requirements and expectations.
We know that we are changing a lot and that while this is an adjustment for us, it's a confusing time for children who may not understand what's happening. We are committed to providing you the same service, but it will be a little different for a little while. The only way to get through this is together!
Thank you for your help as we strive to keep the salon germ free! We can't wait to see you!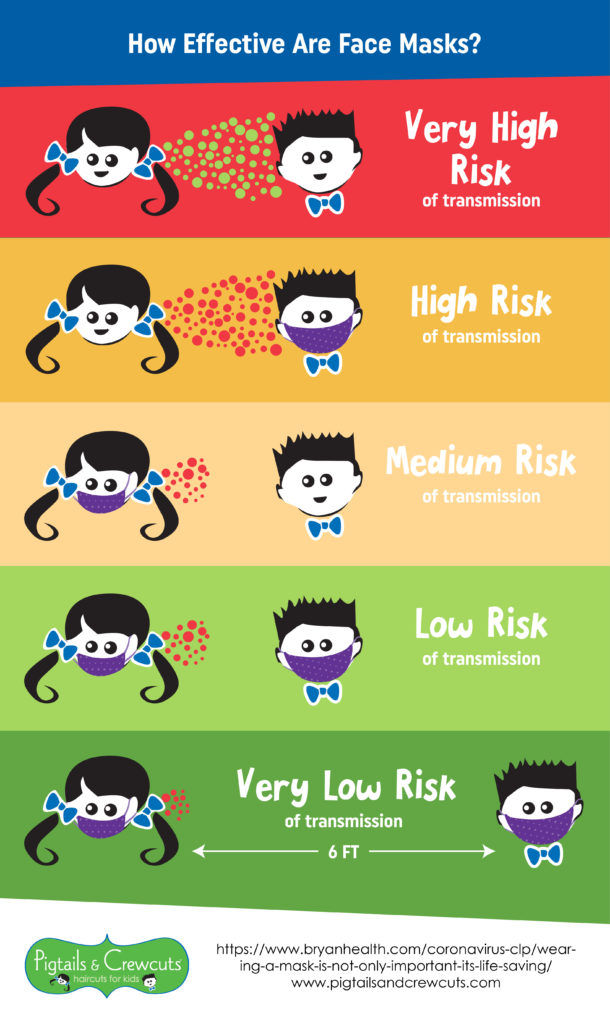 Most salons will be requiring appointments for all services. Please check your local salon for more information. 

Masks are strongly encouraged, if not required at Pigtails & Crewcuts salons. Staff are required to wear a mask at all times. 

Any customer who has any COVID-19 related symptoms will be asked to reschedule.

Please be mindful and cancel any appointments you are unable to keep.
Ways to Help Prepare Your Child for Their Trip to the Salon:
We understand that this is an adjustment for children and a major change in their public interactions. We ask that you do not allow them to wander and that they respect social distancing as well. 

Please prepare your child to know that hugs, high fives, and other demonstrations of affection are not permitted at this time. 

Please prepare the little ones to encounter their favorite stylist with a mask on. 

Each stylist has been assigned a chair, so children can't pick their favorite for the time being.
Check your local salon for their arrival procedure. You may have to wait in your vehicle until they alert you that you can enter the salon.

IF YOUR CHILD IS EXHIBITING SIGNS OF ILLNESS SUCH AS HAVING A FEVER, COUGHING, RUNNY NOSES, ETC., WE RESERVE THE RIGHT TO DECLINE SERVICES AND REQUEST THAT YOU LEAVE THE SALON. WE ARE HOLDING OUR STAFF TO THESE SAME STANDARDS.

Please practice social distance while in the store.

Please touch only the merchandise you intend to purchase.