School is back in session and that means learning and having lots of fun with new friends, as well as the chance of head lice making an unwanted appearance. Head lice cases are very common among preschool and elementary school-age children, and can unfortunately spread to other family members very quickly, creating a very uncomfortable situation for all. The good news is that it doesn't have to be that way for long if you know how to treat and prevent head lice.

What is Lice and How Does it Spread?
First things first, let's clarify what lice is. Human lice are parasitic insects that can be found on different areas of the body, but most often on the head. They feed on human blood and are typically spread through person-to-person contact. Lice cannot fly or hop; they move by crawling only. 
Adult head lice are about two to three millimeters in length and infest around the head and neck. They attach their eggs, or nits, to the base of the hair shaft. Nits are very hard to see due to their small size (about the size of a knot in a thread) and are usually yellow or white. Nits hatch in about nine days after being laid. Nymphs are immature louse that hatch from the nit and look very similar to an adult louse within 12 days of hatching. Fully grown adult lice are about the size of a sesame seed and are usually tan to grayish-white in color. Usually, they can live up to 30 days on a person's head but will die within one to two days after falling off a person.
Head lice can be tricky to diagnose as dandruff, hair product residue, and other debris can be mistaken for nits, so it is important to learn the signs. Common symptoms of a head lice infestation include:
An itchy scalp

Nits on hair shafts and around the nape of the neck

A tickling sensation caused by the movement of hair

Sores on the scalp and neck

Irritability and/or sleeplessness
If you suspect your child has head lice but aren't 100% sure, you can contact your child's pediatrician for a diagnosis.
Lice spreads through contact with another person who has an infestation. For most kids, this means head-to-head contact with a playmate, but it can also spread through sharing hats or clothes worn by someone with head lice, using infested brushes, combs or towels, or laying on a bed, carpet, couch, pillow or stuffed animal.
My Child Has Head Lice. What do I do?
If your child has a confirmed case of head lice, you'll need to use either an over-the-counter remedy or prescription medication for treatment. Once you have your treatment, do the following:
Remove any clothing that can become wet or stained.

Apply the lice treatment or medication as directed, making sure to follow all instructions – especially those pertaining to how long the treatment should be left on the hair before washing it out. If your child has really long hair, you may need a second bottle. DO NOT use a shampoo/conditioner combination or conditioner before treatment. 

After the treatment is complete, have your child put on clean clothes. Do not re-wash their hair for 1 to 2 days after treatment. If a few live lice are found within 8 to12 hours of treatment, DO NOT retreat the hair. 

Comb child's hair with a fine-toothed nit comb. If no dead lice are found and if lice seem as active as they were prior to treatment, it may not be working, so check with your child's doctor before retreating as you may need to use a different product. 

Check hair every 2 to 3 days after treatment and comb your child's hair to remove nits and lice to reduce the chance of self-reinfestation. Continue to re-check every 2 to 3 days to ensure lice and nits are gone.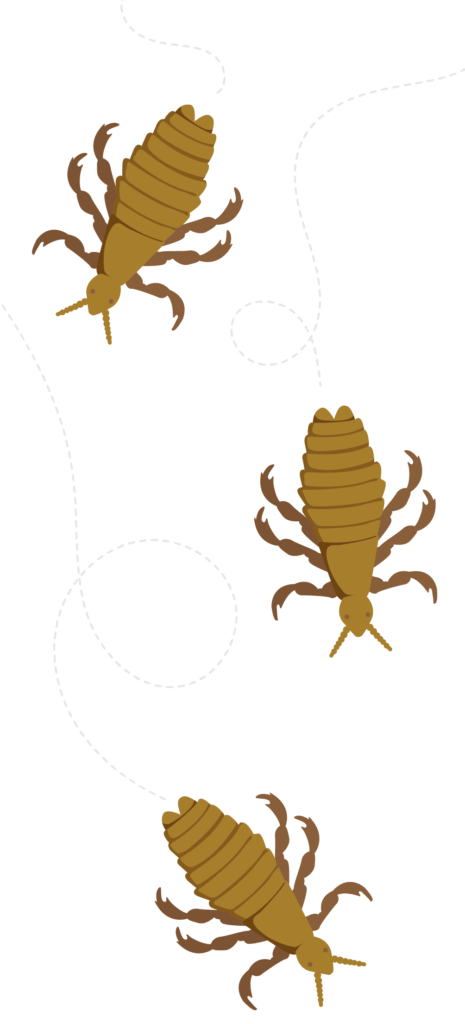 You will also need to machine wash and dry any clothes, bedding, stuffed animals, and other soft items your child wore or was in contact with within the two days prior to treatment. Use hot water (130°) and your dryer's high heat setting, or dry clean items if they can't be washed. Alternatively, you can seal items in plastic bags and leave them there for two weeks.
How Do I Prevent This From Happening Again?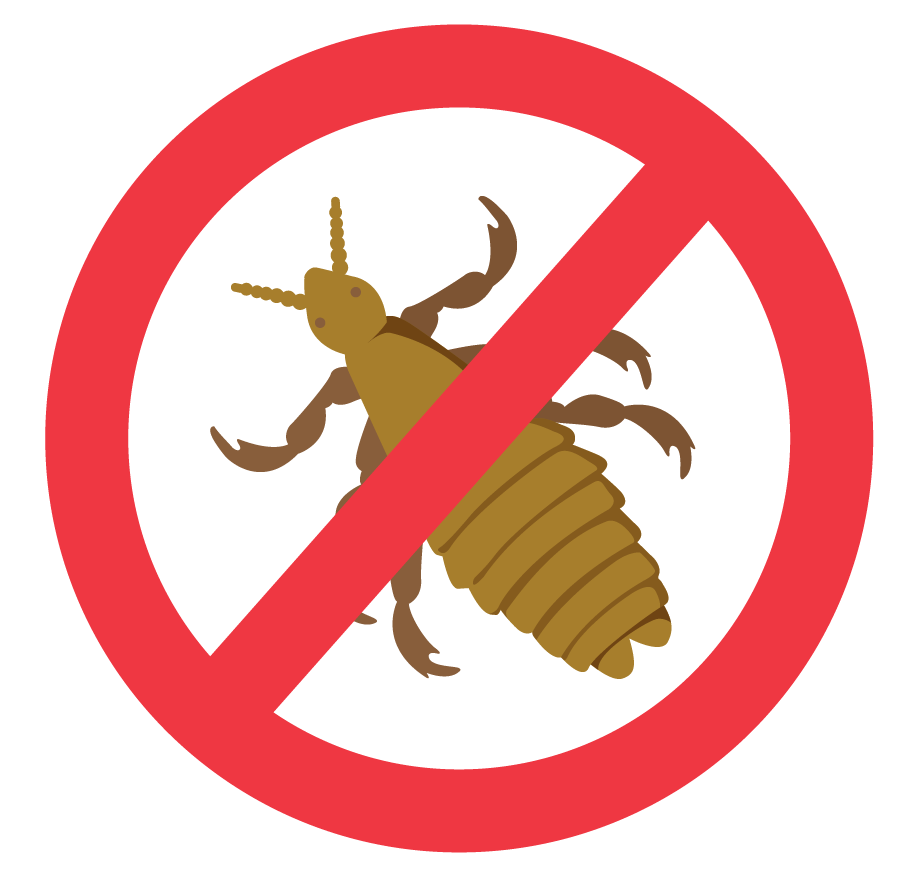 While you can't 100% avoid head lice, you can take some measures to prevent another infestation. This includes:
Reminding your child to avoid touching their friends' heads during playtime.

Not sharing hairbrushes, combs, bows, hats, and scarves.

Vacuuming floors and furniture, especially after an infested individual has been in contact with them.

Avoiding contact with beds, couches, carpets, pillows, and stuffed animals an infested child has touched.
In addition, you can ask your Pigtails & Crewcuts stylist about products that can help repel head lice. Many of our salons carry products like Fairy Tales Rosemary Repel Conditioning spray that are designed to help keep lice away, and other kid-friendly haircare products.
Head lice definitely isn't nice, but when you know how to treat and prevent it, you're better equipped to spot it early and act fast. If you have questions about how to spot head lice or lice repelling products, don't hesitate to ask your Pigtails & Crewcuts stylist. While our team can't treat your child's head lice, we can answer questions and will be here when the lice are gone so we can help keep your child's hair looking fabulous.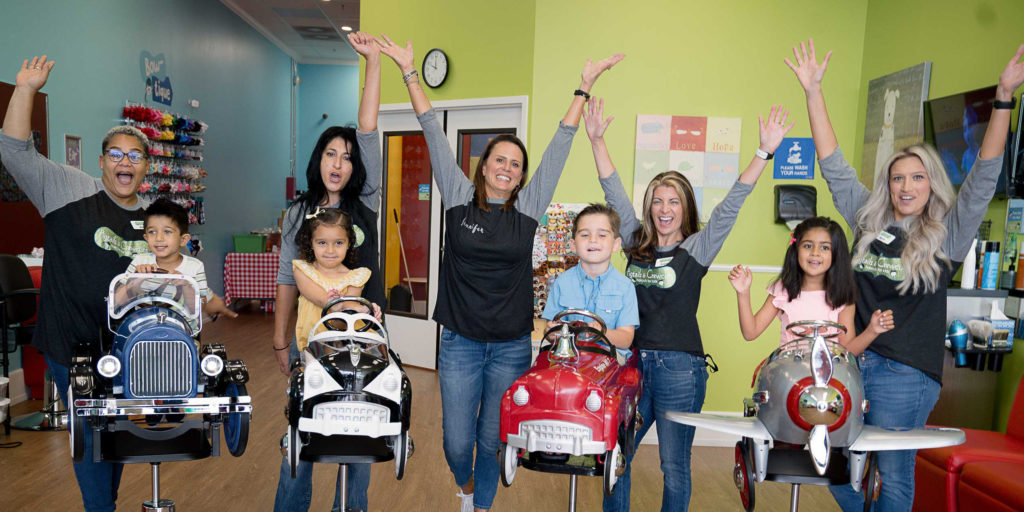 Our Stylists are Here to Help!
If you have questions about caring for your child's hair between haircuts, ask your Pigtails & Crewcuts stylist the next time you visit your local salon. We're here to help you keep your child's hair looking great all year long!